AgriBio Business
Functional Food Business
Takara Bio has transferred our group's functional food business
to Shionogi Healthcare Co., Ltd. pursuant to the company split as of January 1, 2019.

Please refer this for details.

Mushroom Business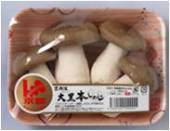 Honshimeji mushrooms


Hatakeshimeji mushrooms
In 1970, Takara Bio established, for the first time in the world, a technique for mass-producing Bunashimeji mushrooms and with its commercialization began the Company's business of mushrooms. We have since developed new high value-added mushrooms and have also established mass production techniques.
Currently, Takara Bio produces Honshimeji mushrooms (product name: "Daikoku Honshimeji") and Hatakeshimeji mushrooms (product name: Otsubu Tanbashimejii" through Mizuho Norin Co., Ltd (located in Kyotanba-cho, Kyoto Prefecture). Takara Bio holds the top share of the market in Japan for Honshimeji mushrooms, known for their good taste which rivals the smell of matsutake-"Matsutake for flavor, Shimeji for taste" as the saying goes. Daikoku Honshimeji mushroom received "Kyoto Brand Goods" designation from the Kyo-Branded Products Association in 2015, and has earned a solid reputation as a high value-added mushroom product.
Takara Bio schedules for the transfer of our group's mushroom business
to Yukiguni Maitake Co., Ltd as of March 1, 2019.

Please refer this for details.