AgriBio Business
Takara Bio works to discover the functionality of traditional Japanese food ingredients, and develops and produces functional foods that utilize these materials. It also cultivates new mushroom types and utilizes technologies for large-scale production to produce and market Honshimeji and Hatakeshimeji mushrooms.
Functional Food Business
Takara Bio has been researching the functional properties derived from traditional Japanese food ingredients while at the same time developing and manufacturing functional foods featuring these unique properties.

Functional foods developed by Takara Bio are marketed by Takara Healthcare Inc., a wholly-owned subsidiary of Takara Holdings Inc. Takara Healthcare also provides these unique functional food ingredients as raw materials for foods, drinks, and cosmetics to manufacturers of such products.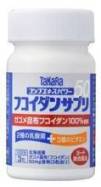 Fucoidan Supplement 50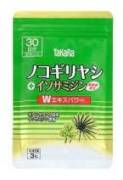 Nokogiriyashi (saw palmetto) + Isosamidin
1. Gagome Kombu (Kelp) "Fucoidan"
Fucoidan is a viscous component found in various species of seaweed, including kombu. It has been found to self-repair damaged areas and act as a barrier against desiccation and bacteria. Takara Bio spent many years researching Gagome kombu (kelp), a particularly sticky type of kombu, and consequently three different types of chemical structures of Fucoidan in Gagome kombu (kelp) were successfully identified for the first time. Research into Fucoidan functionality continues to move forward.
2. Herb (Peucedanum japonicum) "Isosamidin"
Peucedanum japonicum is a perennial plant in the Apiaceae (Umbelliferae) family that grows naturally along the coast, mainly from southern Kyushu to Okinawa. It is called "Botanbofu" in Japanese. It is also often called the "herb of long life," which derives from the local folklore saying "If you eat one sprig of Botanbofu, you will live one day longer." Takara Bio has focused its research on the herb's intense vitality, particularly the properties of a constituent compound called Isosamidin.
3. Ashitaba (Angelica Herb) "Chalcone"
Indigenous to Japan, Ashitaba grows wild on the Pacific coast, mainly in the Izu Islands. Ashitaba is known for its strong vitality as indicated by the Japanese saying "If Ashitaba leaves are picked today, new leaves will be in place by tomorrow." Ashitaba is rich in vitamins, minerals, and dietary fiber, many of which are important nutrients for both health and beauty. Takara Bio produces Ashitaba on its own farms and contracted farms in Kagoshima Prefecture. Takara Bio is pursuing R&D activities into the function of Chalcone, a polyphenol peculiar to Ashitaba.
4. Agar-derived "Agaphytose"
Known as the "king of dietary fiber," agar is made from gelidium, gracilaria, and other kinds of seaweed. Takara Bio focuses on agaro-oligosaccharides derived from heating agar in an acidic solution, and has developed a proprietary method for producing agar-derived Agaphytose which features unique functions not found in other oligosaccharides.
5. Yam (Dioscorea esculenta) "YamsgeninTM"
Long known as a healthy food with tonic-like properties, yams are referred to as "Sanyaku" in traditional Chinese medicine. Takara Bio discovered a component called YamsgeninTM in the lesser yam (Dioscorea esculenta, "Togedokoro" in Japanese), which is grown in places like Okinawa. YamsgeninTM is not found in common yams. Takara Bio is now conducting research into the functionality of this component.
6. Mushroom "Terpene"
"Terpene" is the generic name for substances based on isoprene structure that are found widely in nature. For example, lycopene, a health-promoting constituent of tomatoes, is a "terpene." Takara Bio's research focuses on the properties of mushroom "terpene," which is one of the compounds present in Bunashimeji mushrooms (Hypsizigus marmoreus).
Mushroom Business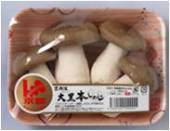 Honshimeji mushrooms


Hatakeshimeji mushrooms
Takara Bio has developed new species of mushrooms as well as methods for the cultivation and mass production of mushrooms. Takara Bio was the first company to successfully develop the large-scale production of Bunashimeji mushrooms, which are widely available at most Japanese food retailers. In 1973, the large-scale production technology was licensed to JA ZEN-NOH (National Federation of Agricultural Cooperative Associations) Nagano, which led to success in the commercialization of this mushroom. This marked the start of Takara Bio's mushroom business.

Today, Mizuho Norin Co., Ltd., a joint venture between Takara Bio and Kyotamba-cho and the Kyotamba Forestry Association, both of which are in Kyoto Prefecture, is conducting industrial production of Hatakeshimeji mushrooms. Takara Bio has also succeeded in mass-producing Honshimeji, known for their exquisite taste: "matsutake smells good, shimeji tastes good," as the saying goes. They are now being mass-produced by Mizuho Norin.

In order to improve revenues in the mushroom business, Takara Bio will substantially increase production of high-value-added Honshimeji mushrooms.