AgriBio Business
Takara Bio is developing a mushroom business centered on the development and manufacture of functional foods which utilize biotechnology, and technologies relating to the mass culture of mushrooms.
Functional Food Business
Takara Bio clarifies the functionality of food ingredients and develops and manufactures functional foods that make use of these ingredients. Takara Bio is currently promoting research and development specializing in the following six ingredients and focusing its attention towards making widely available the research and development results based on research data.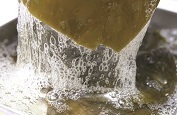 Gagome Kombu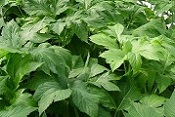 Ashitaba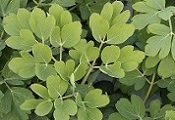 Botanbofu
1. Gagome Kombu (Kelp)"Fucoidan"
Fucoidan is a viscous component found in various species of seaweed, including kombu. It has been found to self-repair damaged areas and act as a barrier against desiccation and bacteria. Takara Bio spent many years researching Gagome kombu (kelp), a particularly sticky type of kombu, and consequently three different types of chemical structures of Fucoidan in Gagome kombu were successfully identified for the first time. Research into Fucoidan functionality continues to move forward.
2. Ashitaba(Angelica Herb)"Chalcone"
Indigenous to Japan, Ashitaba grows wild on the Pacific coast, mainly in the Izu Islands. Ashitaba is known for its strong vitality as indicated by the Japanese saying gIf Ashitaba leaves are picked today, new leaves will be in place by tomorrow.h Ashitaba is rich in vitamins, minerals, and dietary fiber, and other nutrients. In addition to producing Ashitaba on its own farms and contracted farms in Kagoshima Prefecture, Takara Bio is engaged in R&D activities to explore the functions of Chalcone, a polyphenol particular to Ashitaba.
3. Agar-derived"Agaro-oligosaccharide"
Known as the gking of dietary fiber,h agar is made from gelidium, gracilaria, and other kinds of seaweed (red algae). Takara Bio focuses on agaro-oligosaccharides derived from heating agar in an acidic solution, and has developed a proprietary method for producing agar-derived agaro-oligosaccharide, which features unique functions not found in other oligosaccharides.
4. Herb(Peucedanum japonicum)"Isosamidin"
Peucedanum japonicum is a perennial plant in theApiaceae (Umbelliferae) family that grows naturally along the coast, mainly from southern Kyushu to Okinawa. It is called gBotanbofuh in Japanese. It is also often called the gherb of long life,h which derives from the local folklore saying gIf you eat one sprig of Botanbofu, you will live one day longer.h Takara Bio continues to research the herbfs functionality, with a particular focus on illuminating the intense vitality exhibited by a constituent compound called Isosamidin.
5. Yam(Dioscorea esculenta)"YamsgeninTM"
Long known as a healthy food with tonic-like properties, yams are referred to as gSanyakuh in traditional Chinese medicine. Takara Bio focuses on a component called YamsgeninTM in the lesser yam (Dioscorea esculenta gTogedokoroh in Japanese), which is grown in places like Okinawa. Takara Bio is now conducting research into the functionality of this component.
6. Mushroom"Terpene"
Terpene is the generic name for substances with an isoprene structure, a structure found throughout nature. Takara Biofs research focuses on the functions of mushroom terpenes, which are among the compounds present in Bunashimeji mushrooms (Hypsizigus marmoreus).
Mushroom Business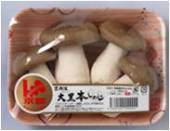 Honshimeji mushrooms


Hatakeshimeji mushrooms
In 1973, Takara Bio established, for the first time in the world, a technique for mass-producing Bunashimeji mushrooms and with its commercialization began the Companyfs business of mushrooms. We have since developed new high value-added mushrooms and have also established mass production techniques.
Currently, Takara Bio produces Honshimeji mushrooms and Hatakeshimeji mushrooms through Mizuho Norin Co., Ltd. (located in Kyotanba-cho, Kyoto). Takara Bio holds the top share of the market in Japan for Honshimeji mushrooms, known for their good taste which rivals the smell of matsutake ? gMatsutake for aroma, Shimeji for tasteh as the saying goes. Takara Bio is also concentrating on expanding its sales channels by taking advantage of the strong branding of its Kyotamba Daikoku Honshimeji mushroom which was certified as gKyoto Brand Goodsh in 2015.