Takara Bio supports biotechnology research worldwide, from basic research at academic institutions to commercial entities working in drug-discovery research. Since the introduction of the first domestically produced restriction enzymes in 1979, Takara Bio has continuously developed its research reagents, scientific instruments, and contract research services with new genetic engineering technologies.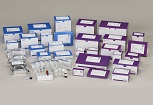 Real-time PCR equipment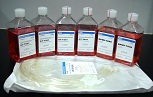 Research reagents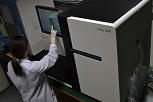 Clontech's research reagents
Research Reagents and Scientific Instruments
R&D activities in biotechnology are performed at both academic institutions, such as universities, and private enterprises, such as pharmaceutical companies, in a variety of areas. These include functional analysis of genes as well as the unraveling of biological phenomena and mechanisms of disease at the molecular level in living organisms. The role of our Bioindustry business is to support such life science research activities worldwide.

In 1988, Takara Bio became the first company in Japan to introduce a gene amplification system using the PCR method; and in 1993, Takara Bio obtained a license for the PCR method to produce its own PCR-related products. The PCR method is an essential technology for biotechnology research, which enables the amplification of very small amounts of genes from biological samples. Takara Bio has developed high-performance PCR enzymes and real-time PCR equipments that meet market demand. Takara Bio enjoys a high reputation as one of the most well-established companies in the Asian PCR reagent market.

In September 2005, Takara Bio acquired Clontech Laboratories, Inc. Whereas Takara Bio's strength lies in the field of genetic engineering, including enzymes for genetic engineering and PCR-related technologies, Clontech is strong in the field of cell biology, including systems for viral gene delivery, as well as systems for the regulated gene expression. Combining Clontech products with Takara Bio products has greatly expanded the product lineup of research reagents. As for production, the majority of the Company's research reagents are produced by Takara Biotechnology (Dalian), established as a manufacturing facility in China in 1993. This enables Takara Bio to maintain a high level of cost competitiveness.

Takara Bio markets its products in North America and Europe through two subsidiaries: Clontech in the United States and Takara Bio Europe S.A.S. in France, respectively. At the same time, Takara Bio pursues the growth in the rapidly expanding markets of emerging countries. In China, Takara Biotechnology (Dalian) markets research reagents,and sales in this market continue to grow steadily. In India, DSS Takara Bio India, established in 2011, has spent more resources in promoting the products in the Indian market.

Takara Bio will also continue to distribute within Japan and overseas the products of other companies that are technologically complementary, aiming to expand sales by offering products and services from such companies as Immuno- Biological Laboratories Co., Ltd., Macherey-Nagel GmbH & Co. KG, Morinaga Institute of Biological Science, Inc., and Exiqon A/S.

R&D activities are shared efficiently among Takara Bio, Clontech, and Takara Biotechnology (Dalian). These R&D initiatives focus on developing products both in the stem cell field, a market likely to grow going forward, and the genetic engineering field, an area in which Takara Bio boasts particular competence. In the genetic engineering field, Takara Bio aims for sales growth by expanding the application of PCR-related technology for industrial use (Applied fields) and by developing new products related to real-time PCR, which is considered to be a growing market. In the stem cell field, new products relating to epigenetics and iPS cells are to be developed, the fields of which are expected to actively grow.

The products developed by Takara Bio and Clontech are manufactured by Takara Biotechnology (Dalian) and marketed not only in Japan but worldwide through the global distribution network of Group subsidiaries in Europe, the United States, China, South Korea, and India. Based on this strategy, Takara Bio aims to build a strong presence in the global marketplace.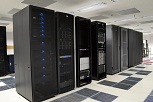 Next-generation sequencing system


Dragon Genomics Center server
Contract Research Services
Takara Bio also runs a contract research services business through which the Company conducts data analysis and performs research for academia and commercial entities on a contractual basis. One of Asian largest genome analysis centers, the Dragon Genomics Center, was established in 2000 having successfully completed several large genome analysis contracts. The core facility of the contract research services business offers not only general research services, such as genome sequence analysis, gene expression analysis using DNA microarray, small RNA analysis, and protein expression analysis, but also state-of the-art research services, such as high-throughput sequencing analysis using next-generation sequencers and contract production services for iPS cells.

A broad range of leading-edge analysis applications, including human genome analysis and epigenetic analysis, are available for genetic analysis services using next-generation sequencers, which has been prevailing in recent years. Also, Takara Bio has invested in bioinformatics for data processing so as to provide high-value-added services-next-generation data mining services-which extract useful information from the extremely large amounts of data produced by next-generation sequencing analysis.

Takara Bio will continue to offer innovative new services, keeping up with rapid technological innovation in biotechnology research.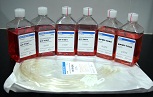 Cell culture media and gas-permeable bags
Cell Therapies
Activated lymphocyte therapy, a type of cancer immunotherapy that has extremely few side effects, is gradually spreading in use and becoming a fourth category of cancer therapy alongside surgery, chemotherapy, and radiation. Takara Bio is involved in the clinical development of cancer immunotherapy using the RetroNectin® expansion-culture system, which has been named "RetroNectin® induced T-cell therapy (RIT)," and Natural Killer (NK) cell therapy. Takara Bio also provides three Japanese clinics with technical support services for cancer immunotherapies.
1. Clinical Development of Cancer Immunotherapy
Takara Bio has developed a large-scale culture method that produces approximately 90%, highly pure NK cells. Since 2012, in collaboration with the Kyoto Prefectural University of Medicine, NK cell therapy clinical study has been conducted on patients with gastrointestinal cancer.
2. Technical Support Services for Cancer Immunotherapy
1) Technical support services for cell processing
Takara Bio is providing technical support, on a per fee basis, for RIT cell therapy to the Iseikai Hyakumanben Clinic in Kyoto, the Takeda Hospital Group's Takeda Clinic in Kyoto, and Aino Hospital in Ibaraki city in Osaka. This technical support includes cell processing for the therapy. Going forward, Takara Bio plans to continue developing new cell-processing technology that is effective in cancer immunotherapy to expand technical support services for clinics.
2) Sales of cell culture media and gas-permeable bags for cell therapy
Takara Bio markets cell culture media and gas-permeable bags for cell therapy. In particular, it is concentrating on expanding its business in China, where the cell therapy market is rapidly growing.

Contract Development & Manufacturing Organization (CDMO)
Business
Takara Bio has facilities and systems for manufacturing vectors for regenerative medicine and gene therapy applications in accordance with Good Manufacturing Practice (GMP). As well as manufacturing vectors for clinical trials of its own gene therapy projects, Takara Bio provides contract vector manufacturing services for the clinical research activities of medical institutions. Further, in collaboration with SGS Vitrology Ltd. of the United Kingdom, Takara Bio has launched safety testing services for bio-pharmaceuticals in Japan.

As the pace of regenerative medicine clinical development accelerates, the market for Takara Bio's contract development and manufacturing organization (CDMO) business is expected to expand. In order to respond to this demand, the Company is currently constructing a new GMP-compliant manufacturing facility, which is expected to start commercial production in October 2014. The additional production capacity from this facility will be used not only to produce clinical-grade vectors for the Company's own gene therapy projects but also to provide GMP contract manufacturing services for vectors as well as gene modified cells for regenerative