Bioindustry Business
Takara Bio develops original research reagents, scientific instruments, and contracted research services that utilize new genetic and cell engineering technologies on a consistent basis, supporting biotechnology research and bioindustry around the world in fields that range from basic research to drug discovery and development.
Research Reagents and Scientific Instruments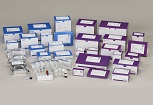 Research reagents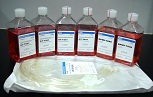 Cell culture media and gas-permeable bags
Since the introduction of the first domestically-produced restriction enzymes in 1979, Takara Bio has provided research reagents and scientific instruments needed for life sciences research at universities and private companies.

In particular, Takara Bio develops and markets Polymerase Chain Reaction (PCR) related products that include high-performance PCR enzymes and real-time PCR equipment, as well as other products that meet market needs. Takara Bio enjoys an excellent reputation as one of the most well-established companies in the Asian PCR reagent market. An essential thechnology for biotechnology research, the PCR method enables the amplification of very small amounts of genes from biological samples.

In September 2005, Takara Bio acquired United States-based Clontech Laboratories, Inc. Whereas Takara Bio's strength lies in the field of genetic engineering, including enzymes for genetic engineering research and PCR-related technologies, Clontech is strong in the field of cell biology, including genetic function analysis systems that use fluorescent proteins and protein interaction analysis systems. Combining Clontech products with Takara Bio products has greatly expanded Takara Bio's product lineup of research reagents.

Takara Bio also markets cell culture media and gas-permeable bags used in regenerative medicine. It is especially focused on expanding this business in China, where the market for such products is rapidly growing, effecting strong sales.

As for production, the majority of Takara Bio's research reagents are produced by Takara Biotechnology (Dalian) Co., Ltd., established as a manufacturing facility in China in 1993. This enables Takara Bio to maintain a high level of cost competitiveness.

Takara Bio continues to focus on developing products both in the genetic engineering field, an area in which Takara Bio boasts particular competence, and in the regenerative medicine research field, a market likely to grow going forward. In the genetic engineering field, Takara Bio aims for sales growth by expanding the application of PCR-related technology for industrial use (applied fields) and by developing new products related to next-generation sequencing, which is considered to be a growing market. Inregenerative medicine research, new products and services relating to iPS cells (induced pluripotent stem cells) and genome editing-both fields of active research-will be developed.
Contracted Research and Production Services
(CDMO: Contract Development & Manufacturing Organization)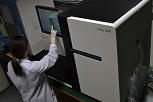 Next-generation sequencing systems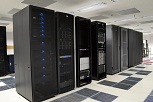 Analysis server
1. Contracted Research Services
Takara Bio also runs a contracted research services business through which we conduct data analysis and perform research for academia and commercial entities on a contractual basis. In 2000, Takara Bio established one of the largest genome analysis centers in Asia and has since successfully completed several large genome analysis contracts. In addition to preparing comprehensive research service contracting systems involving, for example, genome sequencing analysis, gene expression analysis using DNA chips, small RNA analysis, and protein expression, Takara Bio provides cutting-edge technological services that include next-generation sequencing and iPS cell production contract services.

A broad range of leading-edge analysis applications, including human genome analysis and epigenetic analysis, are available for genetic analysis services using next-generation sequencers, which have seen rapid adoption in recent years. Also, Takara Bio has focused efforts on bioinformatics so as to provide high-value-added services-such as next-generation data mining services-which extract useful information from the extremely large amounts of data that are acquired.

Takara Bio will continue to offer innovative new services, keeping up with rapid technological innovation in biotechnology research.
2. Technical Support Services for Cancer Immunotherapy
Cancer immunotherapy, which has extremely few side effects, is gradually spreading in use and becoming a fourth category of cancer therapy alongside surgery, chemotherapy, and radiation. Takara Bio provides technical support services to medical institutions that are engaged in clinical research involving cancer immunotherapy or that provide cancer immunotherapy, using the RetroNectin® expansion-culture system and the highly-pure Natural Killer (NK) cell therapy method.

The RetroNectin® expansion-culture system is an expansion-culture method for human lymphocytes that uses RetroNectin® along with interleukin-2 and anti-CD3 monoclonal antibodies. The system increases the proportion of na?ve T cells that have a significant in vivo persistence and strong antigen recognition.

The highly-pure NK cell culture method involves the expansion culture of a large volume of highly-pure (approx. 90% pure) NK cells. NK cells are a type of lymphocyte that exist in peripheral blood at a rate of 10% to 20%, and act as an initial defense mechanism against viral infections and cancer cells. With it now known that things such as aging and stress can lessen NK cell activity, NK cell therapy is receiving attention.

In collaboration with the Department of Cancer ImmunoCell Regulation at the Kyoto Prefectural University of Medicine, Takara Bio has conducted clinical research into cancer immunotherapy using these proprietary culture methods and has verified their safety and efficacy.

The Iseikai Hyakumanben Clinic in Kyoto and the Takeda Hospital Group's Takeda Clinic of Immunity and Genes in Kyoto are currently using RetroNectin® induced T cell therapy (RIT) and a combined therapy involving the use of RetroNectin® induced T cells and highly-pure NK cells, with Takara Bio providing technical support services for cell processing.

We are also licensing out the RetroNectin® expansion-culture system to Cancer Medical Clinic CARNAMED in Sapporo.

Efforts will continue to focus on developing cell processing technologies useful to cancer immunotherapy and providing technical support services to medical institutions.


Center for Gene and Cell Processing
3. Biopharmaceutical Development Support Services
(Contracted GMP-grade production services)
Takara Bio has facilities and systems for manufacturing vectors for gene therapy and cells used in regenerative medicine and cell therapy in accordance with Good Manufacturing Practice (GMP). Along with manufacturing vectors for clinical trials as part of Takara Bio's gene therapy projects, we provide contracted manufacturing services and develop manufacturing processes for cells used in vectors for gene transduction and regenerative medicine in conformance with GMP for universities and companies. We also develop quality control testing methods, form test production, and conduct bioassays.

The Center for Gene and Cell Processing, a new GMP-grade production facility, is set to begin full-scale operation in October 2014.